Posted March 04, 2020 in ClearCorrect
2 Minute Read:
Your smile is important. Not only does it make a strong first impression, but the quality of your smile can also impact your sense of self-esteem and social worth.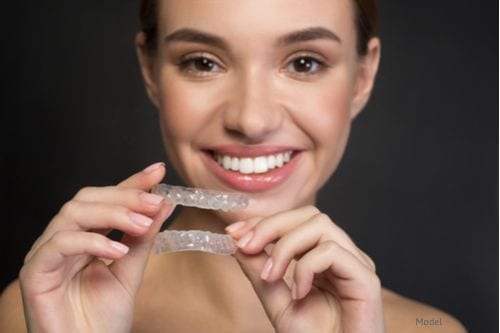 For better or worse, you are often judged by how others perceive your smile, and unattractive or crooked teeth may prevent you from speaking and smiling freely.
At Gentle Care Dentistry, great smiles are achievable with new technologies such as ClearCorrect™. Here is why this corrective system is revolutionizing smiles everywhere:
1. ClearCorrect™ Is Designed to Fix Several Different Issues
Teenagers and adults with crooked teeth are finding great results with corrective technologies like ClearCorrect™. When used carefully, this system can correct overbites, underbites, and gapped, crowded, or crooked teeth.
If you are a candidate, the ClearCorrect™ program may be completed in as few as three months.
2. The ClearCorrect™ System Works in a Simple Way
ClearCorrect™ is a system of teeth aligners that, over time, alter the spacing of teeth and gently adjust their placement. These specially fitted aligners are worn 22 hours a day and should only be removed for eating, drinking, and teeth brushing.
The ClearCorrect™ treatment has four distinct phases, each requiring a new tray. Trays are worn for approximately three weeks. The trays are not painful to wear, and most patients do not realize they are working until they see the difference in their smiles.
3. The Results Are Hard to Beat
ClearCorrect™ results in straighter teeth, better spacing, and a more beautiful smile. And this is all without painful surgery or visible metal alignment contraptions (traditional braces).
ClearCorrect™ offers discreet, clear aligners that fit perfectly over existing dentition. No one will know that you are wearing your aligners, allowing you to correct your smile without detection. Those around you will simply notice your straighter teeth and wider smile.
Patients may experience some minor gum irritation or mouth dryness initially, but this should subside as patients adjust to their ClearCorrect™ trays.
According to many patients, the ClearCorrect™ program is both more comfortable and less expensive than several of its major competitors.
Interested in Learning More?
Want to learn more about ClearCorrect™? Consult the dental professionals at Gentle Care Dentistry in Las Cruces, NM, to see if you are the right candidate for the ClearCorrect™ teeth straightening treatment.
If you are self-conscious about your teeth and looking for a straighter smile, call Gentle Care Dentistry now at 575-524-3722 to learn more about ClearCorrect™ and our many other dental services we provide our patients.