Posted February 13, 2020 in CEREC® 3D Technology
2 Minute Read:
If you have been tapped into the latest tech news, you may have heard about people printing entire objects with the sci-fi speed and ease of 3-dimensional printing. 3D printing, or additive manufacturing, is a method by which complex objects are created at a fractional cost of their forged, molded, and sculpted counterparts.
This world-changing tech is taking strides in all areas of society, from the simple day-to-day demands of newly printed phone cases, plates, and cups to the more life-altering possibilities of advanced prosthetics and organogenesis (the creation of organs).
With 3D printers entering the medical market, it was only a matter of time before 3D printing began to make its strides in the dental industry. CEREC® 3D combines dental science and the advancements of 3D technology to restore patients with fully functional veneers, inlays, onlays, and crowns.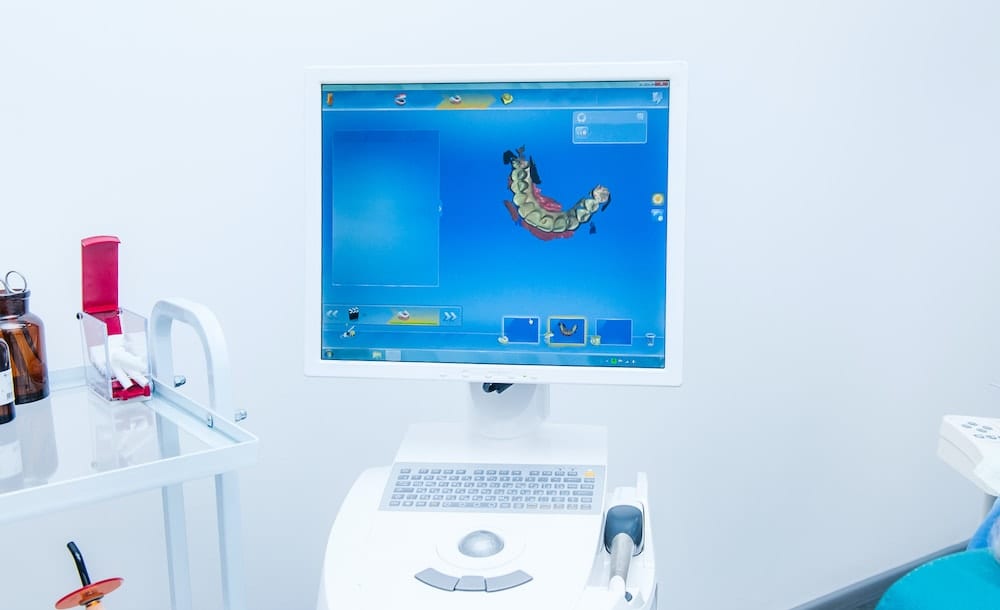 What Is CEREC® Restoration?
CEREC® is an acronym for Chairside Economical Restoration of Esthetic Ceramics and is also known as a shortening of ceramic reconstruction.
So how does CEREC® 3D printing work in dentistry?
First, CEREC® uses digital cameras to take images across the problem areas of your teeth. Then, those images are developed in the 3D modeling software of CEREC® to create models on the computer screen. Restoration designs for the tooth or teeth can be entirely completed on screens in front of patients.
Molds made from sticky, starchy, gummy adhesives that awkwardly stick to your mouth are now a thing of the past.
Once completed, CEREC® mills the restoration, accurately carving new crowns, veneers, and restorative materials from ceramic resin.
Are CEREC® Crowns As Good As Traditional Crowns?
CEREC® dental restorations are crafted from a solid block of ceramic resin and designed to withstand years of chewing with a lifespan that is competitive with (or better than) traditional crowns and dental restorations.
CEREC® ceramics feature a coloration more consistent with natural teeth pigments and feature no metallic linings across the gums like metal dental restorations. Some of the benefits of CEREC® 3D restoration also include:

Lack of human error between lab and off-site design. Nearly every step is done right in front of patients.
One-time appointment to provide same-day crowns.
CEREC® 3D restoration takes just over an hour, making it one of the most time-efficient practices.
It offers more natural-looking hues to match neighboring teeth.
Interested in Learning More?
If you would like more information about CEREC® 3D, give our office a call at (575) 524-3722 or fill out our contact form to schedule an appointment today.