Posted June 17, 2020 in Porcelain Veneers
2 Minute Read:

Porcelain veneers used to be reserved for the most extreme restoration cases or the extremely wealthy. But thanks to the "influencer effect," veneers are now soaring in popularity as patients from all walks of life turn to ways to make their smiles look better permanently.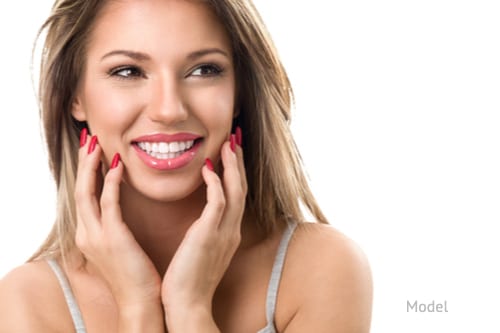 Deciding to attach veneers is a big decision because once they are chosen, there is no way to go back. At Gentle Care Dentistry, we want to make sure that you have all of the information you need about dental veneers to help you make the right choice for your beautiful smile.
What Are Veneers?
Veneers are thin porcelain covers that are attached to and wrapped around the front of the tooth to restore a healthy, lovely smile. Veneers are used to cover stained, chipped, or gapped teeth and will help to improve the natural look and strength of damaged teeth.

Veneers are individually made for each patient so that they fit the contour of their teeth. If you choose veneers, your dentist will help you select the shade that will be best for you, taking into account factors like skin color and the color of the surrounding teeth. In general, a soft white veneer will make your smile look more natural than an opaque white veneer.
How Do I Choose What Type of Veneers to Have?
Patients can choose to have veneers applied to individual teeth or to have a full set of veneers placed. The best option for you will depend on the condition of your teeth and the outcome you desire. If you only have one tooth that needs to be corrected—due to damage or discoloration—then placing a veneer on a single tooth may be appropriate. This veneer can minimize a gap between the teeth or correct a small misalignment.

However, some patients choose to attach veneers to several teeth to create a balanced and beautiful smile. Patients who are looking for a complete set usually have ten top teeth and eight bottom teeth treated.
How Should I Care for My Veneers?
Veneers are hardwearing and can last up to 15 years if you care for them correctly. Since they are attached to the teeth, they can and should be cleaned and maintained as you would usually your natural teeth. This means practicing good oral hygiene that includes brushing, flossing, and seeing your dentist for routine check-ups and cleanings.

Like your natural teeth, your veneers can chip or crack. That is why it is recommended that you do not bite or chew on hard objects, such as your nails or ice. Doing so could result in damage to the surface of your veneers.
Interested in Learning More?
If you are interested in veneers or learning about how cosmetic dentistry can transform your smile, contact Gentle Care Dentistry in Las Cruces, New Mexico, by calling (575) 524-3722 or by filling out our online contact form.