Posted December 07, 2020 in CEREC® 3D Technology, Dental Crowns
3 Minute Read:
Even though dental restorations are not always topics people wish to discuss, the process of getting these restorations is sometimes unavoidable. Dental restorations with crowns are necessary to repair cracks, chips, or dental decay that is not fixable with a filling.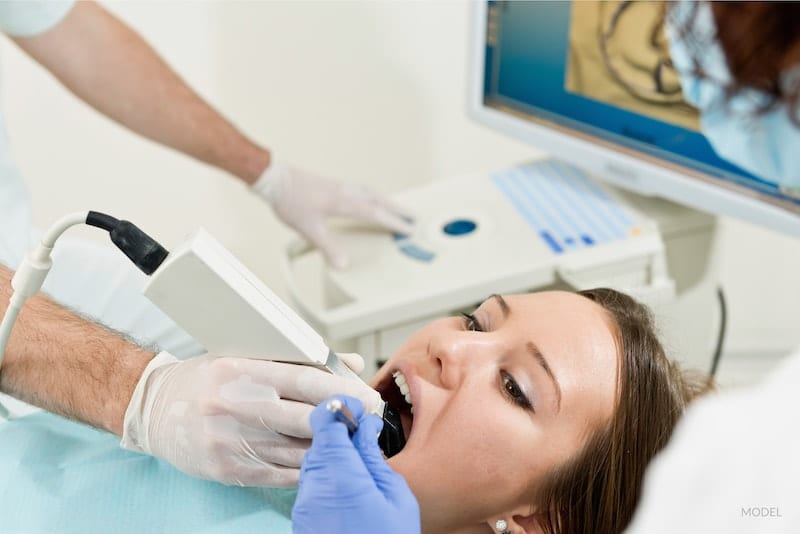 For years, men and women who needed crowns only had one option. With this option, dental imaging was used to map out the area, an impression material was used to get the crown's size and shape, and a temporary crown was placed. Patients would then need to wait days or weeks for their final crown to be ready.
Now, however, patients have a different, more advanced option: CEREC® 3D.
CEREC®: Same-Day Crowns and Restorations
CEREC® has revolutionized dental procedures, offering a more accurate and faster model to restore tooth function. CEREC® crowns are made from ceramic and restore severely decayed, broken, or misshapen teeth—just like a traditional crown.
The most beneficial feature of receiving a CEREC® restoration is that it is accomplished in a single appointment. The CEREC® milling machine crafts a restoration within minutes in our office. This is made possible by using an intraoral scanner to take digital impressions, which are then transposed onto the computer screen to design the final restoration.
In the past, if you were to restore damaged teeth using crowns, onlays, inlays, or veneers, you would have to go through more than one appointment and a great deal of waiting in-between to get the restoration. CEREC® technology creates dental crowns, veneers, inlays, and onlays in just one visit.
Additionally, patients won't need to bite on a physical dental impression as the technique creates a precise, natural-looking dental crown. This typically makes the process much more comfortable. And since a temporary veneer won't be needed, you can enjoy your new beautiful smile as soon as your appointment is finished.
What About 3D Dental Imaging?
In the past, dentists relied on traditional 2D dental imaging to diagnose a wide variety of dental and oral problems. While helpful, the technique didn't catch everything. Fortunately, with advancements in technology, modern dentists have access to 3D imaging, which gives a detailed assessment of the targeted tooth for a quick and accurate diagnosis.
Unlike traditional X-rays that use film to take images of your teeth and dental structure, digital X-rays use a digital sensor. Dental teams can perform more accurate 3D scans, quicker and with less equipment.
When it comes to safety, digital X-rays are a safer option as they give off a very low level of radiation (require roughly 80 percent less radiation than their traditional counterparts).
Digital X-rays are extremely helpful in certain kinds of dental treatment procedures, including root canal treatment, oral surgery, dental implants, and more. With standard X-rays, it can be challenging to find the precise location of nerves and root structures due to poor image quality.
This technology can be useful for restorations, whether you choose the traditional crown method or CEREC® technology.
Interested in Learning More?
At Gentle Care Dentistry, we have the latest digital imaging system and CEREC® dental technology to meet your dental needs. To learn more about the advantages of CEREC® 3D and dental imaging, don't hesitate to contact us at 575-524-3722 or fill our online form to schedule your consultation. Let us help you restore your beautiful smile.