Posted October 23, 2019 in Dental X-rays, Dental/Oral Health, Health & Wellness, Oral Hygiene
3 Minute Read: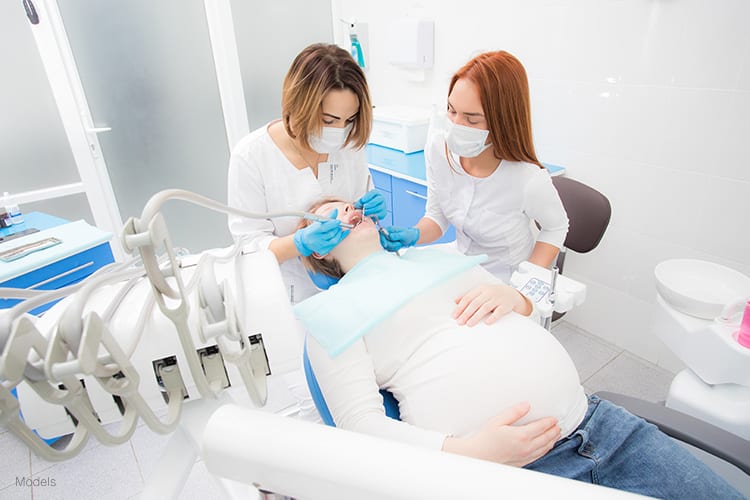 When a woman is pregnant, it is understandable that she wants to take every precaution imaginable to care for her baby's health and her own.
Although avoiding the dentist may sound appealing, routine dental visits during your pregnancy are critical to ensuring optimal health for yourself and your baby.
"Although avoiding the dentist may sound appealing, routine dental visits during your pregnancy are critical to ensuring optimal health for yourself and your baby."
Skipping your routine dental appointments can lead to infections like gingivitis and increase your risk for cavities, which can contribute to poor oral hygiene in young children.
Preventive dental cleanings, diagnostics, restorative, and annual exams during pregnancy are not only safe but also recommended by the American Pregnancy Association.
What Types of Oral Health Issues Does Pregnancy Pose?
During pregnancy, women may be at increased risk for oral conditions like gingivitis and dental caries.
Dental caries, also known as cavities, are caused by:
Changes in diet such as increased snacking
Increased acidity in the mouth due to vomiting
Dry mouth
Nausea and vomiting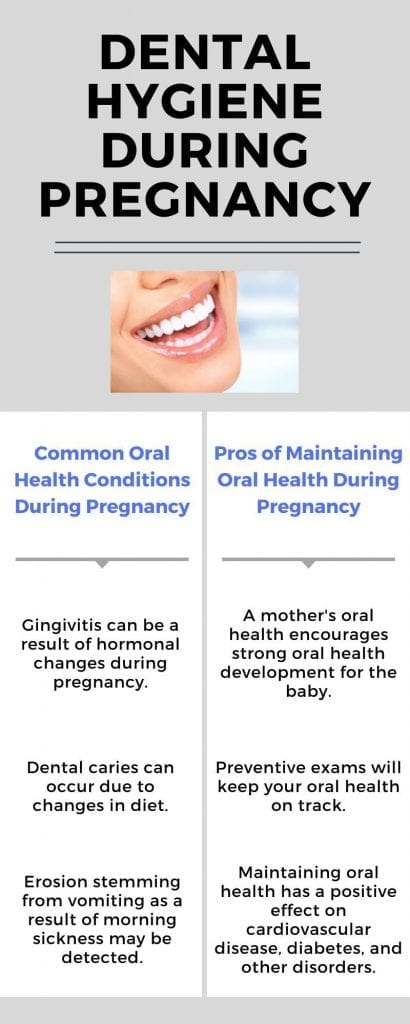 Nearly 60 to 75 percent of pregnant women have gingivitis, an early stage of periodontal disease that occurs when the gums become red and swollen from inflammation. According to the Centers for Disease Control and Prevention, gingivitis may be aggravated by changing hormones during pregnancy.
The rise in hormone levels during pregnancy can cause the gums to swell, bleed, and trap food, which can lead to increased irritation to your gums.
Maintaining healthy oral hygiene practices throughout pregnancy is one way to prevent cavities in young children and build their strong oral health.
What Procedures Are Considered Safe?
Oral health care in the form of emergency treatments, root canals, restorations, extractions, and dental radiographs can be safely performed at any point during pregnancy.
In fact, delaying treatment may result in more complex problems.
Digital Imaging Is a Safer Option
At Gentle Care Dentistry, our dentists stay up to date on the latest technologies and treatments, ensuring the needs of our patients are met with diligent care.
Digital imaging programs have various tools that allow dentists to obtain thorough and detailed assessments of the targeted tooth or teeth in an X-ray image or photograph.
Digital X-rays also require 80 percent less radiation than traditional X-ray products, making them a safe option for expecting mothers.
We offer two types of digital imaging that are proven to be a safer alternative to other systems that emit high levels of radiation. For added protection, we will place a lead apron across your abdomen to further minimize any exposure to your unborn baby.
Read our blog The Safety of Digital X-Rays to learn more about the digital imaging programs we offer at General Care Dentistry.
Tips for Maintaining Strong Oral Health
It is critical that you maintain your oral health to encourage the same healthy habits for your baby.
Below are some tips for maintaining your oral health during pregnancy by the American Dental Association:
Tell your dentist you are pregnant
Let your dentist know if you have experienced any change in your oral health
Let your dentist know if you are taking any medications or supplements
Attend routine preventive exams and cleanings during your pregnancy
Postpone all unnecessary dental work until after delivery
Brush your teeth two minutes twice a day using fluoride toothpaste and a soft-bristled brush
Clean between your teeth once a day with dental floss or another interdental cleaner
Maintain a well-balanced diet
Have More Questions?
If you would like to learn more about your dental care options at Gentle Care Dentistry and live in or around Doña Ana County, please call our Las Cruces office at (575) 524-3722 or contact us online.