Posted December 04, 2019 in Porcelain Veneers
3 Minute Read:
It's award season in Hollywood. From the Golden Globes to the SAG Awards to the Oscars, celebrities are walking the Red Carpet.

Being in the limelight means having the world's eyes on you—and your smile.

Hollywood can be tough. It's not always enough to be talented; future stars have to look their best, both on and off the silver screen.

But while talent is often natural, a star-worthy smile can take a little more work to achieve.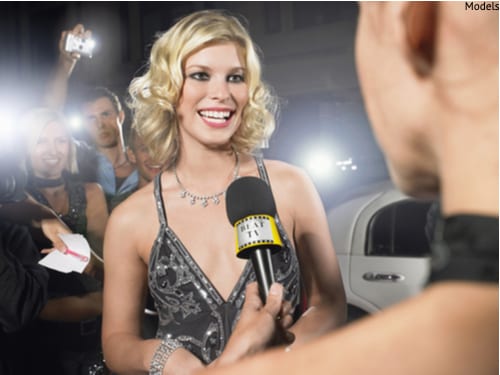 For these 5 celebrities, getting dental work done helped them rise to the top of Hollywood.
1. Ben Affleck
No leading man is complete without a charming smile, as Ben Affleck learned when he first got the role in Armageddon.

After getting veneers, crowns, and whitening treatments, Affleck was deemed to be blockbuster-ready—and indeed, has been a top leading man ever since.
2. Jim Carrey
The legendary funnyman prepared for his role as Lloyd in Dumb and Dumber by simply removing the porcelain veneer that covered his chipped front tooth.

Veneers are a great way to get a picture-perfect smile, especially after years of damage. They are matched to blend in with the rest of your teeth, ensuring a natural finish.
3. Tom Cruise
Tom Cruise's dazzling smile has propelled the actor to the top of the game.

And while his pearly whites are just as famous as his action stunts, Cruise didn't always have that world-famous grin.

He's had to get extensive work done, including veneers, teeth whitening, and even braces for teeth alignment.
4. Miley Cyrus
As the adorable Hannah Montana in the eponymous hit show, Miley Cyrus's crooked teeth were the epitome of teenage innocence.

But Miley looks all grown up now, thanks in large part to a beautiful set of veneers that leave her with a gorgeous, straight, sparkling smile.
5. Jonathan Rhys-Meyers
This Irish star's sparkling smile is one of the reasons he was a perfect fit for his role as the young, handsome Henry VIII in the hit show The Tudors.

He's admitted to getting porcelain veneers done to improve his smile.
How to Get Perfect Celeb-Worthy Teeth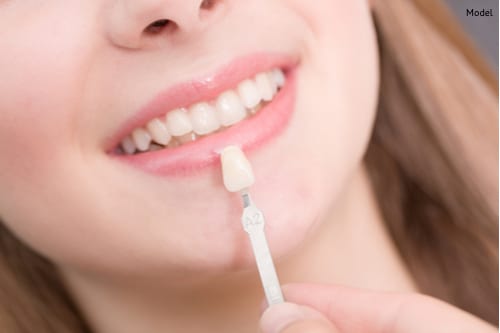 Porcelain Veneers
Procedure Timeline: Several appointments, typically over the course of a week or two, as dental impressions for veneers are created and then fitted over teeth.

Results: Visibly whiter, straighter teeth.
Teeth Whitening
Procedure Timeline: Teeth whitening can be done via UV light treatments, which take about 1 hour to complete. There are also custom-made whitening trays, which work in increments (30 to 60-minute sessions) over time to slowly brighten yellowed or stained teeth.

Results: Whiter, brighter teeth for a mega-kilowatt smile.
Dental Crowns
Procedure Timeline: Two to four weeks as dental impressions are made for the creation of custom-fit dental crowns. Temporary caps are placed on teeth between visits.

Results: Repairs and strengthens broken or cracked teeth for visible improvement that lasts for years.
Dental Implants
Procedure Timeline: Several months, as the bone grows over implants before a customized replacement crown is placed over it.

Results: Replaces missing or broken teeth permanently, improving functionality, appearance, and the rest of the jawline.
Want to Learn More?
Contact us online or call our Las Cruces, NM, office at 575-524-3722 to schedule a consultation at Gentle Care Dentistry soon.