Posted November 20, 2020 in Gentle Care Dentistry News, News
3 Minute Read:
On November 13, 2020, New Mexico Governor Michelle Lujan Grisham ordered the statewide shutdown of non-essential businesses to combat the surge of COVID-19 cases in the state.
People may be wondering if it is safe to visit the dentist during the COVID-19 pandemic, especially during the shutdown. In a word…ABSOLUTELY! Keep reading to find out why it's still safe to go to the dentist, how you are protected, and why you shouldn't ignore your oral care.
Have There Been Any COVID Outbreaks From Dental Offices?
While there is an element of risk every time you leave the house right now, a dental office has the skills and knowledge to practice extreme safety protocols around disinfection. According to the American Dental Association (ADA), less than one percent of dentists nationwide have been found COVID-19 positive.
Gentle Care Dentistry has been treating patients during the entire pandemic (for over eight months now), and COVID-19 has not spread due to any routine or emergency dental visit. The dentists, hygienists, and all the staff take great care to keep everyone safe.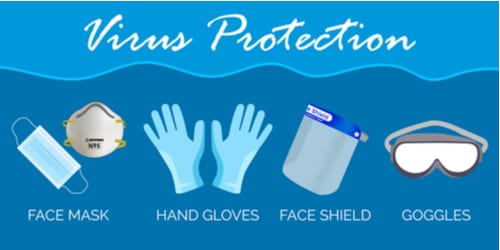 What Can Dental Offices Do to Keep Patients Safe and Reduce Risk?
The Center for Disease Control and Prevention (CDC) released several recommendations for dental offices to undertake to reduce the risk of COVID-19 spread and infection. At Gentle Care Dentistry, we have taken these recommendations seriously and implemented them all.
The health and safety of our patients and staff is our highest priority. In response to the current pandemic, we have implemented some new safety protocols. Some of these new protocols are:
Patients are asked to arrive no sooner than five minutes before their appointment to reduce crowding
Patients and staff are asked COVID-19 screening questions before entering the office
Patients and staff have their temperature scanned
A limited number of patients are allowed in the waiting room at one time
Patients must wear masks at all times when in the waiting room of the dental office
Patients must stay at least six feet apart while in the building except when dental treatment is being performed
Patients are given hand sanitizer when they enter and leave the office
Staff wears extensive personal protection equipment (PPE), including N95 or KN95 respirators, at all times while in the building to protect themselves and patients
Gentle Care Dentistry purifies the air in the facility every 12 minutes with air purifiers both internally and externally
Why You Shouldn't Ignore Your Oral Health
Preventive dental care is absolutely essential. Saying that you cannot attend your preventive dental care appointment is no different than saying you cannot exercise, take your vitamins, take your prescribed medicine, or work to build a healthy body. Your oral health is closely tied to your overall health. According to the ADA, dental care is essential health care due to its role in preventing, diagnosing, and treating oral diseases that can affect a person's systemic health. Some of the reasons why you want to keep a close watch on your oral health include:
Routine dental checkups help to prevent and eliminate infection and preserve the structure and function of your teeth and the surrounding tissues in your mouth
Healthy gums reduce the risk of heart disease
Dental exams may reveal early warning signs of other medical diseases, including diabetes, heart disease, dementia, gastroesophageal reflux disease (GERD), Crohn's disease, anemia, osteoporosis, and rheumatoid arthritis
A healthier mouth could mean a healthier pregnancy
Regular checkups at the dentist serve as an early oral cancer screening
Gentle Care Dentistry
Stop ignoring your oral health. If you have any questions about how Gentle Care Dentistry is reducing the risk of COVID-19, don't hesitate to contact our office. One of our friendly staff will be more than happy to answer your questions.
Book an appointment at Gentle Care Dentistry today by calling (575) 524-3722 or contacting us online.