Posted January 27, 2022 in Night Guards, Oral Health
3 Minute Read: 
If your child participates in school sports, they are likely required to wear a mouthguard to protect their teeth during practices and while playing in a game. Of course, this makes sense, and you may not give it a second thought. 
But what about at home? Do you and your children wear mouthguards (mouth protectors) when engaging in high-contact activities away from school?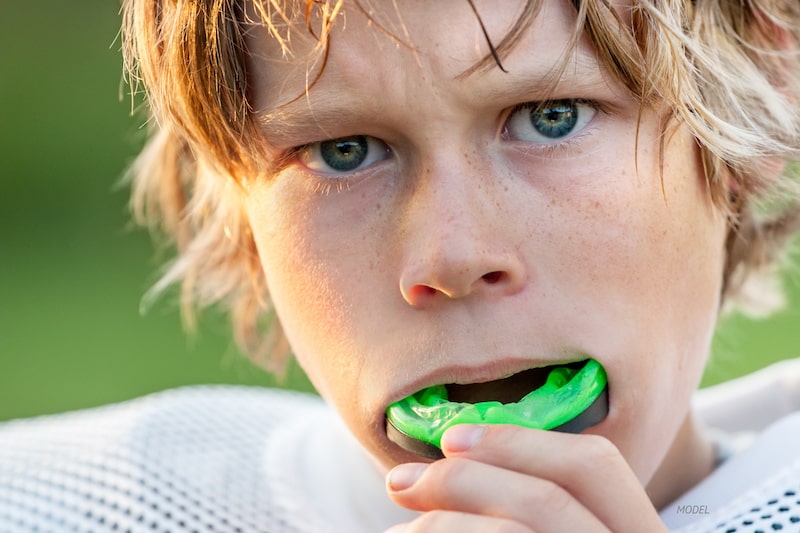 Why Should You and Your Kids Wear Mouthguards?
With up to 39 percent of dental injuries being sports-related, this kind of trauma could easily happen to you or your child, and it might be wise to consider these three vital reasons to protect your family's teeth whenever and wherever playing sports.
1. Pain/Injury Protection
Pain from a dental injury can be debilitating, often preventing you from going to work or completing your daily tasks. Dental trauma also affects your ability to eat, drink, and speak.
2. Embarrassment 
If the injury has resulted in the loss of one or more teeth, you may feel the need to avoid social situations due to being uncomfortable with the appearance of your smile.
3. Cost of Restoration & Time for Dental Visits
Even if you get to the dentist quickly after a dental injury, there is no guarantee that they can be saved.
Restorative treatment will likely require a dental crown or bridge and possibly an implant. Many of these procedures require high out-of-pocket costs, not to mention the time in the dentist's chair needed to complete the work. 
Protect Yourself and Your Family from
Sports-Related Dental Injuries
The National Federation of State High School Associations (NFHS) has mandates in place for football, ice hockey, field hockey, and lacrosse. In wrestling, only student-athletes with braces are mandated to wear mouthguards. 
With the view that these mandates may be inadequate in protecting kids from possible dental injuries, The American Dental Association recommends wearing custom-made mouthguards for a wider range of sports and activities. Some of these include:

Extreme sports

Basketball

Martial arts

Boxing

Wrestling

Acrobatics

Baseball

Softball

Gymnastics

Bicycling

Equestrian events

Surfing

Skiing

In-line skating

Skateboarding

Skydiving



Choose
Custom-Fit Mouthguards
in Las Cruces, NM for the Best Protection
At Gentle Care Dentistry, we offer state-of-the-art, custom-made mouthguards with a comfortable fit to better protect you and your family from dental injuries. You can trust our dedicated team of professionals with all your dental needs as we offer comprehensive care in one location for your convenience and oral health.
Other Reasons to Wear a Mouthguard
Teeth-grinding (bruxism) affects up to one-third of people in the United States at one time or another. This generally unconscious habit can cause dental pain and chipped or broken teeth. 
Temporomandibular Disorders (TMD), also referred to as TMJ, can also be treated with mouthguards. Our practice offers custom night guards and mouthguards to help alleviate the symptoms of bruxism and TMD.
What to Do if You Have a Dental Emergency in
Las Cruces, NM
Gentle Care Dentistry provides emergency Dental Care in Las Cruces, New Mexico. If you have suffered a dental injury, call our office immediately. If one or more of your teeth have been knocked out, place them in a small container of milk until you get to our office. We may advise you to go to the emergency room in some cases.
Interested in Learning More?
Check out the Academy of Sports Dentistry's website to learn what they have to say about sports and mouthguards.
Contact Gentle Care Dentistry by calling 575-524-3722 or filling out our online contact form for more information about our Las Cruces dental practice.