Posted January 08, 2021 in Emergency Dental Care, Extraction
3 Minute Read:
The ripple effect of COVID-19 is causing many dental practices to change hours or temporarily close and emergency rooms to be overloaded with high demands. Unable to receive help, some dental patients are beginning to take matters into their own hands. Some patients are even resorting to dangerous D.I.Y. methods in an attempt to extract a painful tooth.
You should never pull your teeth, no matter how urgent it may seem. Professional treatment methods are the only way to ensure genuine safety and success.
Here are five reasons why patients should avoid at-home tooth extraction.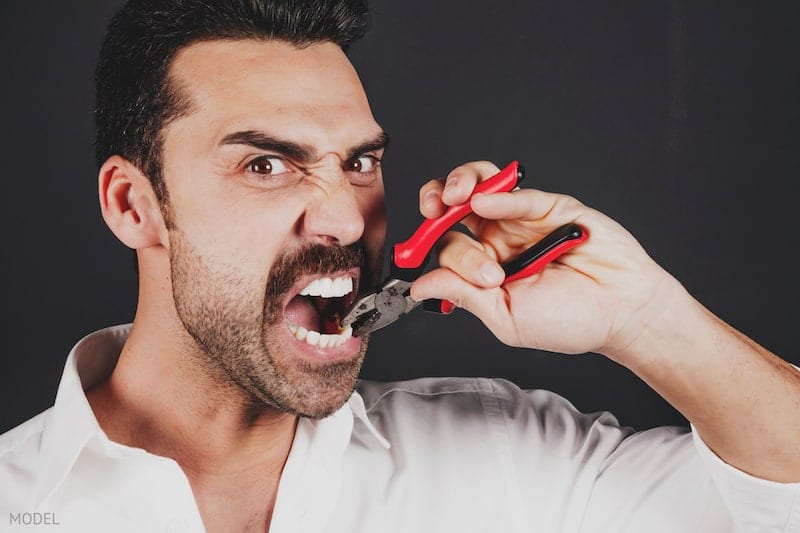 1. Your Dentist May Be Able to Save Your Tooth
A dentist can often salvage teeth that patients may otherwise consider extracting on their own. Even if a tooth is hurting or loose, it doesn't always mean extraction is necessary. An experienced dentist could stabilize the tooth and treat it so that a patient can keep their smile intact.
2. At-Home Tooth Pulling Will Be Painful
It is impossible to pull out your teeth without feeling an excruciating amount of pain since you will be doing so without pain-relieving drugs and medications. Even when men and women try to numb the area for at-home extraction (commonly with ice or drinking alcohol), the surrounding nerves will still be sensitive enough to feel extreme pain.
You will be given local anesthesia when you undergo a professional tooth extraction or root canal therapy, making this the least painful method for extracting your teeth or having your teeth restored.
3. You Can Damage Other Areas of Your Mouth
When attempting an at-home tooth extraction, it is very easy to damage other areas of your mouth. Not only could a pair of pliers (the most common tool for at-home tooth extraction) crush your teeth, but any form of at-home extraction could destroy or damage the neighboring teeth, fracture your jaw, or even cause permanent nerve damage.
Once a tooth is removed, the empty pocket is exposed to harmful bacteria. Without the proper precautions and protocols found in a dentist facility or operation room, the risk of infection is much higher. Additionally, the infection may have already spread, and at-home tooth extraction will not address the underlying issues.
4. Pulling Your Own Teeth Will Likely Not Save You Money
Those who try teeth pulling at home are likely to waste far more time, effort, and money repairing their teeth after they have become shattered, fractured, or infected from hazardous D.I.Y. solutions. The best way for patients to save money is by booking an appointment for a professional root canal or tooth extraction.
5. A Root Canal May Be a Better Option Than Extraction
Tooth extraction isn't always the best option when it comes to infected or decaying teeth. A root canal can save teeth that have damaged or dead pulp. At Gentle Care Dentistry, your dentist will carefully examine your damaged tooth to determine if a root canal or extraction is the most appropriate dental treatment.
Dentists will always try to save your teeth, and extraction is always a last-case scenario. Even now, our dental offices are open for emergency and non-emergency appointments.
Interested in Learning More?
Tooth extractions and root canals are serious and highly specialized forms of oral surgery that require years of dental training.
If you need emergency dental extraction or a root canal, please contact Gentle Care Dentistry in Las Cruces, New Mexico, by calling (575) 524-3722 or filling out our contact form to schedule an appointment today.